Custom Sports Lockers for your team
If you are looking for locker room lockers, Custom made sports lockers are not as expensive as you think. Many locker manufacturers sell overpriced sports lockers which are flimsy and of poor quality. Take a look around the internet and you will see many of of competitors have their lockers made overseas and just slap their label on it. At PlayerStall, our wood lockers are 100% made in North America. All the design, materials, service and manufacturing is done right here in Langley, British Columbia.
If you are looking to outfit a locker room with Athletic Lockers, you may assume that it is quite expensive. If you have a team, PlayerStall makes high quality sports lockers at steeply discounted prices. Our wood lockers are made of ¾" Birch and is a modular design so if it every gets damaged, you give us a call and we will ship you out new pieces… free of charge!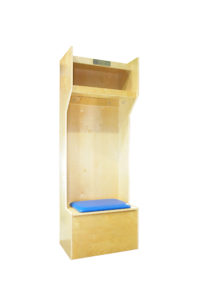 The advantages of having athletic lockers in your locker room is plentiful. Keeping your equipment and organized is easier said than done but if you have wood lockers in your locker room, its so easy. For those wanting to dry their football equipment, baseball equipment, hockey equipment, ringette equipment, lacrosse equipment… our sports lockers make it a snap.
The look of our athletic lockers is another great advantage. Whether you want to give your team that professional look or are just looking for that recruiting edge, PlayerStall's athletic lockers are a great addition.
We have a wide selection of wood sports lockers to fit any sport:
Football Lockers

Hockey Lockers

Baseball Lockers

Basketball Lockers

Mudroom Lockers
We custom make each sports locker to specifically match the room you are using. If you are interested in purchasing some locker room lockers, give us a call and we will work within your budget to transform your locker room.