Why Choose Athletic Lockers?
Athletic lockers have been tested and proven to be the best when it comes to providing ample space for sports equipment and ventilation to keep moisture at bay. They also provide long lasting protection because they are literally made for handling the task at hand, as opposed to using standard lockers which may not be as durable when put under the same pressure. Athletic lockers can be customized to suit different environments like homes, football stadiums, gym changing rooms, large sports arenas etc. At PlayerStall, we have a wide range of high quality athletic lockers. Why settle for less when you can access the best sports lockers from a trusted brand?
Best Athletic lockers for sale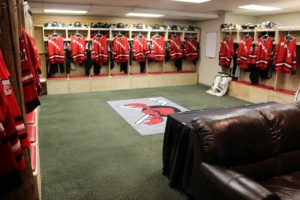 These lockers are primarily made to keep moisture and stink away from your sports equipment. The amount of space that they provide ensures that you are not squeezing everything together ,which is a contributing factor to damaging your not-so-cheap sports equipment. Space also provides the much needed aeration so your sweaty equipment dries well and stays fresh for the next use. When some items like shoulder pads or helmets do not dry well, there is a high chance of mold and bacteria building up. Who wants to risk getting an infection the next time they get a slight bruise while playing?
PlayerStall offers all kinds of affordable yet highly efficient wood lockers. You can choose to buy one of our designs or give us your preferences for a customized locker. Do you need a locker that has no door, or one that allows for maximum airflow but needs to be secured by a door as well? The choice is yours! Perhaps one of the things we would advise on is that you take into consideration the amount of ventilation needed for the sports equipment stored in these wood lockers. If they are meant for football teams that play several times a week, choose athletic lockers with ventilated sides. In short, you should always prioritize on ventilation.
We also have athletic lockers that are meant for specific types of athletic equipment. For instance, you can choose one that is ideal for golf clubs and bags as well as golfing outfits. You also have the option of ski lockers, country club lockers and so many others. All you need to do is talk to our well informed sales representatives and you are guaranteed to get the athletic locker that best fits your sporting needs.
Athletic lockers are simply the best when you are seeking safety for all kinds of sports equipment. With all the effort that you put into making sure that your sports team is performing well, the best thing you can do is take off the stress of ensuring that their equipment is well stored by investing in quality sports lockers. Whether you are looking for locker room lockers for an athletic organization or mudroom lockers, visit PlayerStall today and get to see the wide variety of high end but very affordable athletic lockers you can choose from. With us, you can be sure that you will always get excellent services at a price that is pocket friendly.