Organize your gear with PlayerStall
The Wood Locker to keep your garage more organized
Wood lockers are going to turn your crowded garage into a spacious spot. From paint cans to bikes, the garage is usually packed so tight that you can't get another thing in there. Our sports locker will ease you of the clutter and keep your sports equipment organized and ready to go.
I know its hard to decide what to keep and what to turf, so here are some tips to get you started:
First, Start by taking everything out of the garage to qualify everything that can stay or go. Once everything is out, you can map out a strategy where to put your wood lockers.
Secondly, Find a spot for your wood lockers. Once you can define the area where the sports equipment will be, you can start figuring out what else can stay.
Decide what to keep ( obviously the wood locker!)
Garages are infamous for collecting unneeded clutter. A couple things you need to ask yourself are:
Do I love it?
Could someone use it?
Do I need it?
I think once you have looked at everything you have in your garage, you will be able to categorize them quite easily.
Now that you have figured out what to keep, now you need to find a spot for the most important item in your garage: PlayerStall wood lockers. Now you are set to never forget your equipment again. Forget damp, stinky sports equipment- PlayerStall sports lockers will keep you gear dry and ready to go.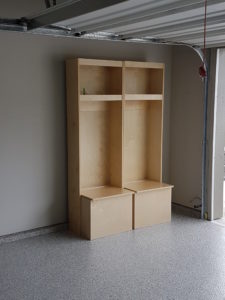 PlayerStall has all you need for organizing your equipment. Whether you are looking for a hockey locker, a football locker, athletic lockers, or any type of sports locker, PlayerStall has you covered. Don't settle for the cheap lockers out there. PlayerStall wood lockers are built strong at a very reasonable price. Contact us today to let us help you find the perfect mudroom lockers. Check out our facebook page to see some of the solutions we have to offer.