Athletic Lockers- Learn How to Wash Your Equipment Without Damaging It
Are you looking for a sports equipment storage solution that is tailored to ensure all your hockey gear drys fast? PlayerStall Athletic Lockers design is ideal for storage, organization and as a sports equipment drying rack. Despite the drying process being first and most important part in keeping your sports equipment healthy, it is not enough to eliminate fungus, mold, and unpleasant smells. This article is going to teach you how to clean your sports equipment without damaging it and leave it fresh and free of harmful bacteria.
Washing your Sports Equipment
Put your shoulder pads, elbow pads and shoulder pads in your washing machine. Set the Cycle speed on "Gentle".
Ensure you have closed all the Velcro enclosures before you start the cycle to avoid the equipment from being caught on anything while it washes.
Note that if you're using a top loading machine, you will need to remove all the laces first, add the detergent and then start the machine.
After the washing part is over, you need to put your socks, jerseys and other base layers in the machine. Why is this important? It is to ensure Velcro from your other gear does not cause any damage to this items. Also, remember to turn your clothes with logos inside out.
Cleaning your Shin guards
Shin guards can cause some odor due to the sweating while playing. However, to protect your shin guards, don't wash them with the washing machine because they may get destroyed from banging in the machine as a result of the spin cycle. Instead;
Add Warm water in your bath tab

Add some disinfectants and laundry detergent in your bath tab

Let them soak.

Rinse them with clean water
Drying using your Athletic Lockers
The last process of the cleaning process is the drying part. For better results avoid the dryer and instead use our wood lockers to assist you to easily hang and organize your equipment after washing them. This ensures that every time you need to go for practice; your equipment is clean, fresh and free from any infections. We have a previous post that shows you how to create your own disinfecting spray so you can spray down your sports equipment when you don't have time to wash it- you can read it here.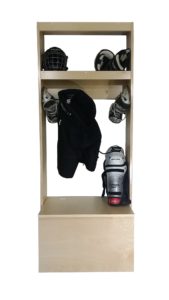 Any of our athletic lockers are perfectly suited to be used as a drying rack. Our sports lockers are the most durable wood lockers on the market, hands down! Whether you are looking for hockey lockers, football lockers, or mudroom lockers to keep your garage neat and organized, PlayerStall Wood Lockers are an affordable choice. Feel free to check out our competitors and their specs, and you will see that not only do we use the thickest and sturdiest materials, but we beat anybody on price.
If you have a school, college or professional team and are contemplating some locker room lockers, give us a call and we will send you our Team Discount price list which offers steep discounts on our sports lockers.