Sports Lockers- Some tips on how to keep your Hockey equipment in Good Shape
Hockey players are known to be a tough breed but even they know that their equipment has to be in good shape to protect them from some of the dangers on the ice. It's hard to find a rougher sport than hockey so when you get on the ice, your gear has to be in good shape to protect you from hits, pucks and falls.
Here are some quick tips on how to keep your hockey equipment in top shape:
Skates
One of the most important pieces of equipment when it comes to hockey is your skates. They are typically the most expensive piece you have and if your skates are in rough shape, your game level will probably be too.
Skate size is crucially important. If you are skating around with small skates, you will be more focused on your sore foot than the puck

Sharpen your blades as soon as you see they are getting dull. Just like a kitchen knife, the sharper it is, the safer it is.

Wipe your blades clean after every game.

Make sure the rivets are tight and get them checked out by a professional if they need adjusting.

Pull out your sweaty insoles after every game to get them dry and reduce bacteria. Use your sports locker to easily hang them to get them dry.
Helmet
Check your helmet on a regular basis. Dents and cracks will start splitting the outer shell, which will be a safety hazard.
Gloves
Dont put your sweaty, stinky gloves near a heat source. This will tend to shrink and crack your gloves and with turn them into a cracking mess. Use sports lockers to hang them up and get them dry. We previously discussed a simple and effective way to make your own homemade sanitizing spray which you can use after every game to sanitize and freshen up your gloves.
Apparel
After a game, your clothes are sweaty and smell terrible. There are few things you can do besides washing them thoroughly.One sports equipment storage solution is to use wood lockers. Athletic lockers are an easy, and great looking solution to hang up all your sports equipment to get it dry and organized. PlayerStall makes top notch sports lockers that not only look great, but are fully functionable and is at a very affordable price. If you play hockey, our hockey lockers make your locker room or garage look pro.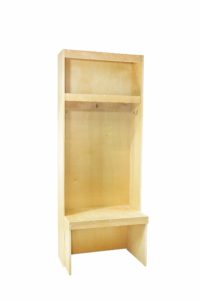 For all the Moms reading this: isn't it a big pain to always be cleaning up that stinky, sweaty gear and scramble to find that missing glove or skate before the game? Keep your garage or mudroom organized with one of our mudroom lockers. At PlayerStall, we're here to help you protect the durability and effectiveness of your hockey equipment. Our storage solutions can make taking proper care of your equipment easier than you ever imagined!