Sports Lockers-How To Choose The Best Sports Lockers
Selecting the right sports lockers may not be an easy task since there are so many brands and locker materials to choose from. While each of them has something to offer, it is imperative that you know what to look for when buying sports lockers to avoid buying something that would not properly serve its purpose.
Athletic Lockers Importance
So how do you know what to prioritize? The answer is simple: Go for athletic lockers that allow your sports gear to dry completely. Experts recommend this because dry sports gear stays fresh, keeping bacteria away and ensuring that the equipment does not stink.
PlayerStall Sports Lockers has remained a top option for many due to our ability to make top notch wood lockers that suit the needs of each athlete. Whether you are a football, baseball or hockey player, you do not have to worry about the safe storage of your sports gear! If you are a concerned parent interested in learning how to properly care for your kid's sports gear, PlayerStall Wood Lockers has the right solution for you. We work with those who are looking to properly store their sports equipment at home or are looking to come up with a world class locker room in the school arena (Or any other facility) at an affordable price.
Wood Locker Quality
We always insist on high quality material when making our sports lockers. ¾" Birch,, brushed nickel plated hardware and urethane are just some of what goes into creating our highly innovative and spacious sports lockers. The materials are well known for their strength, durability and aesthetic beauty. That's right, your lockers do not have to lose their beauty just because they are doing the serious job of keeping your gear safe!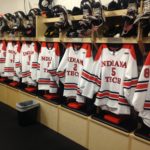 At PlayerStall, we understand the needs of each player. For instance, athletic lockers would be designed differently when compared to baseball or football lockers. We also consider the general design of the building where you would like to install the wood lockers. We have great designs that you can browse through, we are also ready to work with what you have in mind for a customized look. Whether you are looking for locker room lockers or mudroom lockers, we have you covered!
Give us a call today, we are here to listen to your locker needs and provide you with the right sports equipment storage solutions.